Did you know that women hold most of the student loan debt in the United States?! A recent article by Deirdre Fernandes of the Boston Globe analyzed this problematic matter. Included in the article "Women owe $833 billion in student loans. That's up from $223 billion in 2004." This information comes straight from AAUW. These shocking statistics may make women reconsider the value of higher education. According to AAUW, "Women who work during college are likely making less than their male counterparts, forcing them to borrow more to offset their expenses".
For more than 135 years AAUW has advanced equity for women and girls through advocacy, education, philanthropy, and research. Whether by advocating legislative change, making their voices heard on social media, or taking to the streets in their communities, on March 8AAUW members across the country will do their part to raise awareness and take action to improve the lives of all women and girls.
Be sure to subscribe to AAUW Action Network to receive our suggestions for how to spend your "day on" next week!
Governor Baker signed An Act To Establish Pay Equity into Law on Monday August 1st 2016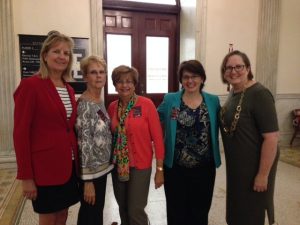 at 3:30 PM at the Grand Staircase of the MA State House in Boston. AAUW members have been amazing supporters and advocates of this bill and previous equal pay bills over the years.  This is groundbreaking news for Massachusetts and AAUW!
More than ever before, women are relying on community colleges for higher education and workforce preparation. AAUW's research report Women in Community Colleges: Access to Success recommends policies and practices to help women succeed in community colleges.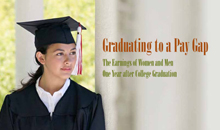 Graduating to a Pay Gap explores the earnings difference between female and male college graduates who are working full time one year after graduation.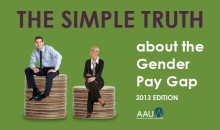 The Simple Truth about the Gender Pay Gap, updated twice each year, provides key facts about the current state of the gender pay gap in the United States, with explanations and links to additional resources that can help you effectively advocate for pay equity.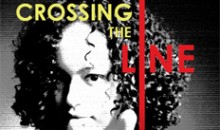 AAUW's research report Crossing the Line presents comprehensive research on sexual harassment in grades 7–12. The report reveals sobering statistics about the prevalence of sexual harassment and the negative impact it has on students' education.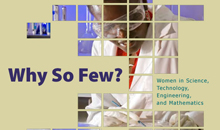 Read more about Why So Few?, an in-depth profile of eight key research findings that point to environmental and social barriers that continue to block women's participation and progress in science, technology, engineering, and math.
Visit AAUW Dialog for the latest blog postings.
View the AAUW Mission video on YouTube!
AAUW Community Action Grants provide seed money to individual women, AAUW branches and AAUW state organizations and local community-based nonprofit organizations for innovative programs to promote education and equity for women and girls.  Check the AAUW website for more information.
Branches are encouraged to use the Member Showcase Calendar on the AAUW website to post programs, meetings and events.
Linda Hallman, AAUW Executive Director, outlines efforts for working women and their families during the economic recovery.
See On Lincoln, AAUW and Economic Recovery
AAUW Gains Special Consultative Status with U.N. Council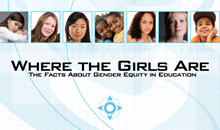 AAUW Educational Foundation releases study, Where the Girls Are:  The Facts About Gender Equity in Education.
Read the Executive Summary.
View a video clip from "The Truth About Boys and Girls" a special feature on NBC Nightly News with Brian Williams
View the longer NBC interview with Catherine Hill, AAUW Director of Research
AAUW Media Guide: Resource for finding and contacting national and local media

AAUW Gains Special Consultative Status with U.N. Council
WASHINGTON – AAUW has gained special consultative status at the United Nations with the Economic and Social Council (ECOSOC), which initiates reports, makes recommendations, and promotes respect for human rights and fundamental freedoms.
For many years, AAUW has had a U.N. representative attending select meetings and monitoring issues affecting women and girls. The new designation allows AAUW to participate in international conferences, sign on to NGO statements, and share AAUW's expertise.
"We closely follow a variety of international issues ranging from girls' education to women's economic security to human rights to women in peacekeeping," said AAUW Executive Director Linda D. Hallman, CAE. "This new status will strengthen AAUW's presence globally and provide us with greater opportunities to engage in U.N.-related activities and initiatives that break through barriers for women and girls."
AAUW has a proud history in global affairs that includes awarding more than 2,200 international fellowships to women from more than 130 countries and partnering with leading international humanitarian organizations on initiatives to empower women.
Next year, AAUW will actively advocate for women at the 53rd session of the U.N. Commission on the Status of Women, which will focus on the equal sharing of responsibilities between women and men, including caregiving in the context of HIV/AIDS.
"AAUW can now advocate more effectively and support policies aimed at strengthening gender equality, especially in the areas of the economic, social, political, and reproductive health rights of women and girls," said Carolyn Donovan, AAUW's U.N. representative.
Currently, AAUW is encouraging its branches to commemorate the 60th anniversary of the Universal Declaration of Human Rights on December 10 and to continue supporting ratification of the women's rights treaty—the Convention on the Elimination of All Forms of Discrimination Against Women (CEDAW).
"AAUW members have long supported our efforts, from hosting international visitors to initiating forums and symposia on global issues pertinent to women and girls," said Gloria L. Blackwell, AAUW's director of fellowships, grants, and international programs. "We are thrilled that our role is expanding."
###