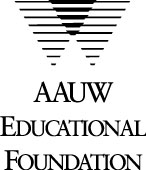 AAUW Educational Foundation provides funds to advance education, research, and self-development for women and to foster equity and positive societal change.
One of the world's largest sources of funding exclusively for graduate women, the AAUW Educational Foundation supports aspiring scholars around the globe, teachers and activists in local communities, women at critical stages of their careers, and those pursuing professions where women are underrepresented.
AAUW-MA and its branches devote significant time and effort in support of the Foundation and in turn receive many benefits from it.
We are proud to announce our Sema M. Faigen International Fellowship Fund was completed in June 2007.
Eligibility criteria and applications for fellowships and grants may be downloaded from or ordered at the Association's website www.aauw.org under fellowships and grants.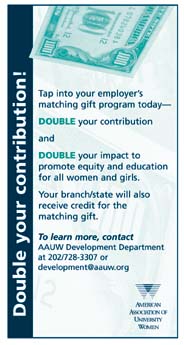 For assistance contact AAUW-MA AAUW Funds Chair, Margaret Chalupowski.
The following are EF fellowships bearing the names of Massachusetts members and the recipients of their grants:
Sema M. Faigen (#    )International Fellowship
Ramila Usoof-Thowfeek, UMass Amherst
Elizabeth Stanton Michaels (#1081) Selected professions
Paola Pinzon-Arano, Worcester Polytechnic Institute
Elizabeth May (#1722) International Fellowship
Ju Zhang (China), Brandeis University
Pamela Lincoln (#1853) Selected professions – Diversity
Jessica Marquez, MIT
Dorothy Weeks (#1192)  International Fellowship
Magdalene Tukov, University of Alabama Birmingham